Tent Options
Please review our tent style, sizing, and pricing options. Standard sizes for Pole Tents and Frame Tents are listed below. Additional sizes are available. All pricing includes delivery, setup, and tear down. We are based in Carlisle, PA. There is a fuel surcharge of $0.75/mile for rentals over 10 miles from Carlisle (delivery round trip and tear down round trip). If your tent setup location is within 10 miles of Carlisle, there is no fuel surcharge. All rentals are subject to Pennsylvania sales tax. Site inspections are available at no cost.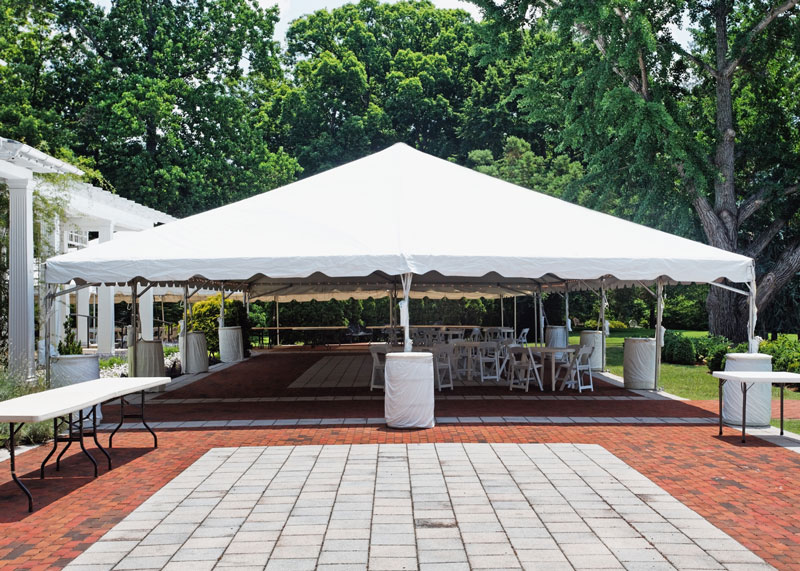 Frame Tents
Freestanding frame tents require stakes or weights. Tent weights are available at an additional cost.
15'x15′: $135.00
20'x20′: $240.00
20'x30′: $360.00
20'x40′: $480.00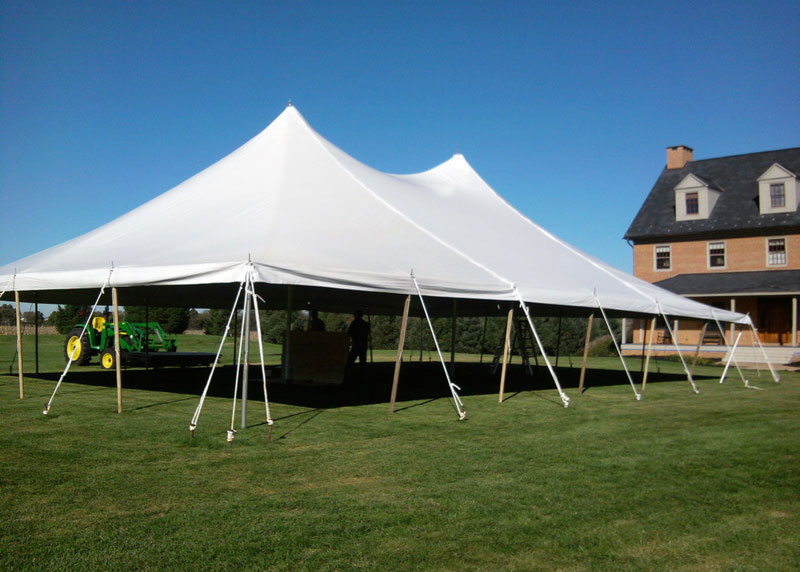 Pole Tents
Pole tents must be staked and roped. Please allow an extra 4 ft. of space around all sides for staking.
20'x20′: $152.00
20'x30′: $228.00
20'x40′: $304.00
30'x45′: $513.00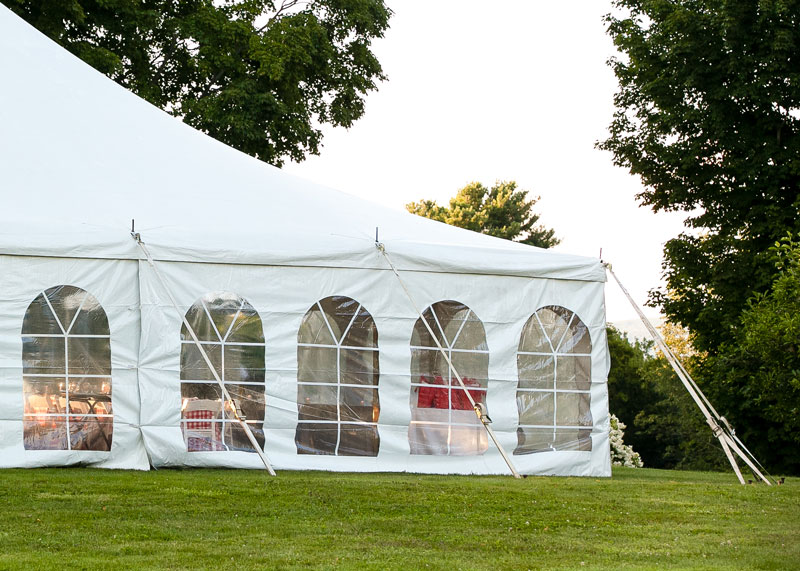 Tent Sidewalls
Protect your party from being hampered by wind, rain, or cool temperatures by adding sidewalls. Available in solid or cathedral style for an elegant touch.
Solid: $1.00 per foot
Cathedral: $1.50 per foot
Tables
Provide ample seating and space for food, gifts, and more with event tables in a variety of sizes.
8′ Rectangular: $9.00
6′ Rectangular: $7.00
5′ Round (60″): $10.00
4′ Round (48″): $9.00
30″ Round Cocktail: $8.00
Chairs
Make sure all your guests enjoy comfortable seating with our sturdy and attractive chairs. Available in black or white.
Black Folding Chair: $1.50
White Folding Chair: $2.00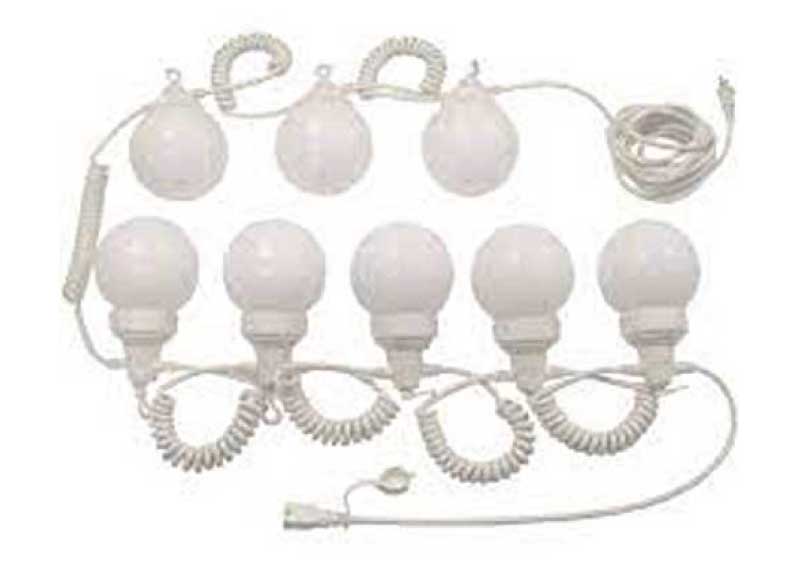 Globe Lights
Add a beautiful glow and provide ample lighting for the celebration with globe lights. Each string of lights covers 400 sq. feet (about 20'x20′).
Globe Lights (8 per String): $30.00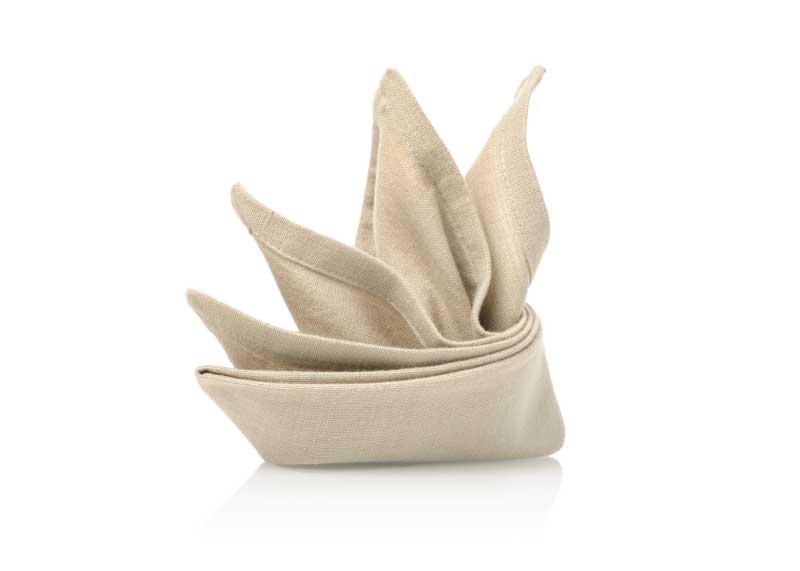 Linens
Further enhance your event with quality table linens in a wide variety of styles and colors.
Contact us for details & pricing.
Capacity Considerations
Please review our handy chart for details on tent sizing and capacity. This should help you determine the tent size best suited for your event and the number of tables & chairs you need to accomodate your guest list.
Please click on the image to view the full-size version.
TABLE CAPACITIES:
8′ Rectangular – Seats 8
6′ Rectangular – Seats 6
5′ Round – Seats 8
4′ Round – Seats 6

Tent Site Considerations
To ensure the safety of the tent erection crews and the tent renter, before a tent can be erected the following conditions must be determined. 
1.) Location
After the proper tent size and style have been determined, choose a desirable location for tent.
The minimum area required for a pole tent is 8' in length and width more than the actual tent size. This allows 4' around all sides for stakes. (Example: A 20' x 30' pole tent requires a minimum of 28' x 38').
Frame tents do not require any additional space. (Example: A 20' x 30' frame tent requires a minimum of 20' x 30').
2.) Underground Obstructions
It is the renter's responsibility to locate all possible underground utilities that could be located in or around specified area.
Utilities could include, but are not limited to water, gas, electric, telephone, sewage, etc. If any utilities lay underground of the specified area, they must be marked. If you have any doubts or questions about any underground utilities, contact the local (or state) Utilities Protection Service. Most utility protection services require a minimum of 48 hours notice to locate and mark all underground utilities (contact PA ONE CALL "Call Before You Dig" 1-800-242-1776).
3.) Overhead Obstructions
Visually check the specified area for any and all overhead obstructions that could possibly be in the area of the erected tent top.
This includes tree limbs, branches, basketball hoops, power lines, etc. Please contact us if you need tent height information.
4.) Surface
Surface is also an important issue in determining the proper type of anchor. Listed below are the 2 main types of surface conditions and the standard methods of anchoring.
Grass – Staked
Asphalt – Staked or Weighted (Asphalt plugs available to patch holes)
Concrete – Weighted (Concrete/epoxy patch is available to patch holes)
5.) Optional Site Inspection
If you have concerns about where your tent needs to be placed, you may request an optional site inspection prior to the erection date.
The purpose of a site inspection is to ensure that the tent ordered will fit the renters' needs (and space) prior to arrival at the site.
Request an Estimate for Custom Pricing